Today I would like to talk about living in a small house, 800 square feet. The absolute truth is, the reason we ended up in our small cabin is mostly because of money. Not that that is a bad thing. After all we were trying to lower debt and scale back on our cost of living.
I had already told myself that I wouldn't finance a bigger cabin than we could pay cash for. Since I sold my house in the suburbs we had a nice wad of cash. You know with a big down payment we could of gotten a BIG log home not just a little cabin, but the most important thing was to be mortgage free. That's why we used our cash to pay for a small cabin kit in full instead of using it as a down payment on a bigger one. So, we now have the 800 foot cabin and no mortgage.
There are some great side effects to look forward to. Like cheaper bills. Lets face it paying bills is a sucky part of life. They just keep rolling in. The smaller the better is the best we can hope for.
We chose the spray foam insulation to cut down on future heating and cooling costs and that has paid off for us.
We don't have a dish washer, microwave or clothes dryer. That cuts down.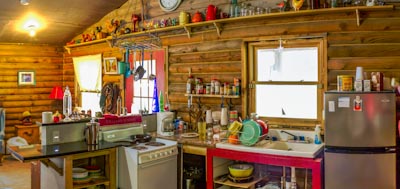 We have an apartment size stove and fridge. The small stove works out great for me because I love to cook and bake and it's so small I feel very conservative.
Before you choose your Homestead house think about what it is you really need in a home. For me it's a place to come in and clean up, bath, wash clothes, cook something to eat and relax. I don't need much more than that and I love the cheep living.
I don't want to have to work 40+ hours a week to pay for a bunch of stuff I don't really need. I want time to work and improve my homestead. And stress free me time.
And I don't like the direction the big food producers are going with the prosessed garbage they pass off as food. Now I use my free time to raise as much of my own food as I can, and make mouth watering home cooked meals. Well that's a little something for you to think about. Until next time.
Happy Homesteading!
~Becky